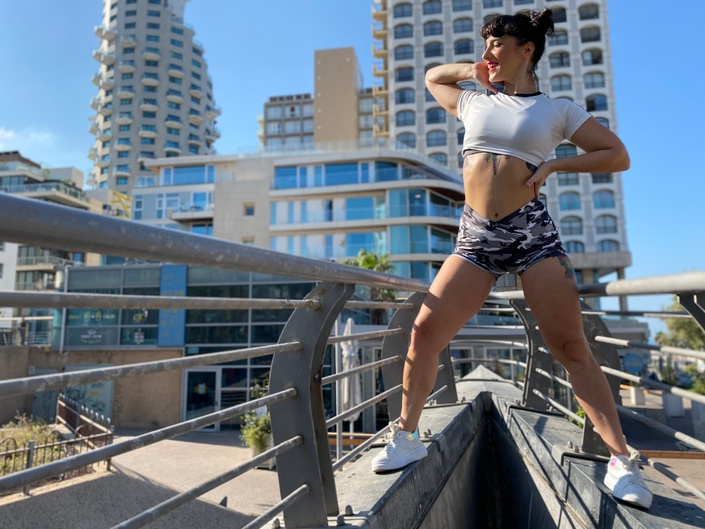 Twerk & Dancehall Live Zoom Workshop
Learn a fun, sexy Jamaican-Dancehall inspired twerk choreography!
Watch Promo
You Will Learn:
- Intermediate and advanced level twerk techniques
- More then 6 Female Dancehall Steps
- A full-length intermediate choreography
You Will also:
- Dance your heart out and have FUN!
- Get two hours of a sweaty workout
- Meet other twerkers from around the world
When:
November 8th, 2020
- 12-14 GMT (London time)
- 13-15 CET (Central European Time)
- 14-16 IDT (Israel Time)
Where:
Zoom. Once you purchase a ticket, you will see the workshop link under this e-course. I will also email you the Zoom link on the day of the workshop (please check your spam folder).

This Workshop Is Suitable For You If:
- You completed Twerking for Beginners e-Course
- You can do the: Pop, Shake, Side-to-Side, Sexy Frog (doesn't have to be 'perfect')
- Took more than 3 months of in-person twerk or dancehall classes
If you're not sure- DM or email me and I'll help you figure it out!
Frequently Asked Questions
If I sign up for the workshop and can't make it, will it be recorded?
Yes, the workshop will be recorded and uploaded either here, to Google Drive or YouTube.
What is the refund policy?
Refunds are unavailable for this workshop. If you can't make it, you will have access to the recording of the workshop.
I'm not sure about my level, would it be too challenging for me?
No worries. Yes, this is a long workshop and a long choreography, but our goal is first- have FUN! Enjoy our time together and learn new things. When we learn something new, it's always challenging. I will make sure to repeat and practice all of the moves and the steps and give individual feedback and tips. If you've completed the Twerking for Beginners e-course, then you should be fine! The beginner moves are the basis for all the more complex / higher level moves you see in this choreo.
Your Instructor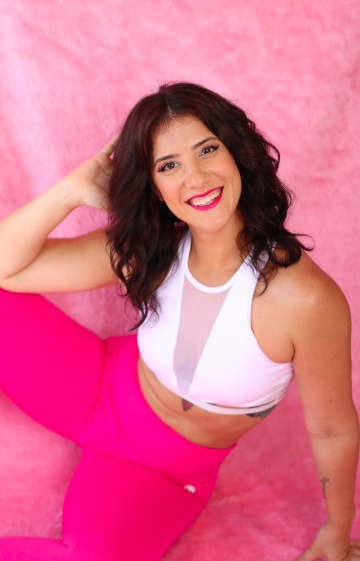 Hi! I'm Gal, a bubbly Israeli woman who moved to Miami at the age of 24. There, I learned about a dance style that wasn't known back home in Israel: twerking. For me, it was the first time I saw a woman dancing with complete body freedom and zero inhibitions. I remember thinking 3 things:
Their body control was amazing;
Their confidence was inspiring;
And mostly- I didn't know we were "allowed" to dance like that! I never got the memo, until now!
I immediately looked for classes that teach this style, but there weren't that many, at the time. I attended some booty-popping classes in my local pole dance studio, taught by an African American teacher, and worked on breaking down the techniques and practicing, at home in front of the mirror.
I returned to Israel and started teaching this dance style (I already had experience teaching Salsa and Pole Dance). After 3 years of teaching twerk part-time in Israel and abroad, in I quit my day-time job and started my own full-time business. I've taught workshops and teacher trainings in over 13 countries including Australia, Europe, Israel and the States, designed and manufactured my own clothing line, ran regular twerk courses for over 4 years in Israel, starred in a documentary film, and appeared on national TV and international web shows multiple times.
Now, I'm excited to share with you my online courses- the product of teaching more than 1200 students, over 80 teachers, and engaging in so many meaningful interactions with individuals across genders, ethnicities and racial identities, sharing the impact of this beautiful dance has had on their life. I hope you enjoy.
Fun Facts: apart from twerking, I'm into science and business (and baking, and crafting, and spirituality). I hold a B.Sc in Biotechnology and an M.Sc in Microbiology and Genetics, and am currently studying at NYU for my MBA.